WORK - LOVE - BALANCE for digital nomads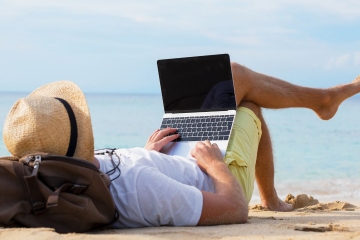 YOUR WORKATION RESIDENCE
For the love of work, vacation, and life. Camp Rehut is the place to do everything you love. Located in the beautiful Murter, in central Dalmatia, where remote workers, digital nomads and vacation-lovers can come together. Our workation mobile homes invites you to focus, adventure, relax and stay – with the right balance in all aspects of life.
INFO: You can submit the application for temporary stay online. It will be forwarded to the competent police administration/station according to the location of your intended stay in the Republic of Croatia. You will receive automatic confirmation that we have received your application and will then hear later from your case worker who will review the application and may request further documentation.
LOVE TO WORK
Camp Rehut is the perfect workation base for everyone who enjoys working, developing, and sharing ideas. Located in the inspirational Dalmatia, our mobile homes are here for you to be productive. Retreat, leisure activities and beautiful nature for an inspirational workflow on the other. And if vacation is your priority, we welcome you to simply relax, too. At Camp Rehut, you can focus on everything you love.
LOVE THE SEA LIFE
The sea is our home and main source of inspiration. That's why Camp Rehut is located only one step away from the beautiful Kornati national park. Get inspired on a island bike & hike and enjoy breathtaking views. Or go on a diving adventure. At Camp Rehut, you can do everything you love. And after broadening your horizons, you can return to work with a fresh mind, or just continue to enjoy your vacation.
LOVE TO UNWIND
For hard-working minds that love having balance. With the Camp Rehut, you can have it all. Relax by the sea after a productive meeting, have a glass of domestic wine, or enjoy olive oil and fresh fish meal. At Camp Rehut, we believe in the power of clearing the mind for great ideas.
LOVE TO STAY FLEXIBLE
For vacation, work, or both. Whatever your focus is on, get the most out of your stay. Enjoy your workation in one of our mobile homes with an integrated kitchen. Cook with fresh and local ingredients from our market and make yourself at home.
Looking for vacation vibes? Sit on the terrace – lean back and enjoy. Thinking about a one-day trip? No problem, because every guest is more than welcome to visit our ranch and meet our animals.
No matter what you have in mind, Camp Rehut is made for you and everything you love.
Book your stay from 01. September 2022. - 31. May 2023.
Find special prices for digital nomads HERE!
Valid for stays of 20 or more nights.
Photo gallery:
Offer - All